Our assets
Organizational structure
In order to provide an environment where researchers can focus on R&D, we have created two separate sections: the R&D and the Head Quarter. The R&D conducts research and development and works on implementing its findings practically, as part of the world at large. The Head Quarter works on creating the foundation needed for Mercari's technological innovations to gain trust from society.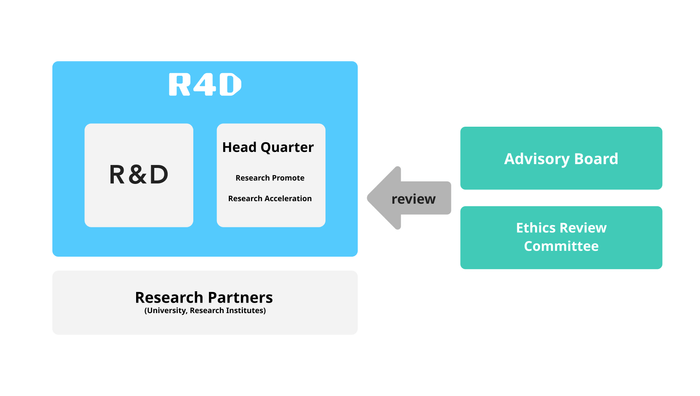 Head of Research
In April 2022, Mercari established the post of Head of Research. This supervisory role is tasked with leading the planning and promotion of R&D strategies related to Mercari R4D and the development of new collaborators. We will strengthen our R&D promotion system to further accelerate deployment.
R&D Ethics Review Committee
At Mercari R4D, we believe it is essential to take a mid- to long-term approach to R&D and to consider the ethical and social implications of taking our findings out into the world. We have created the R&D Ethics Review Committee to ensure that the necessary discussions based on our Ethical Principles for Research Activities take place before research begins.
Advisory Board for Research and Development
The R4D Advisory Board is an organization established in September 2019 in which external experts provide advice and recommendations in order to strengthen our decision-making process. The Board provides an impartial third-party perspective on research topics conducted within R4D and discusses issues such as R4D's future structure.