Mercari R4D, Mercari's research and development organization, will present footage of its inflatable electric mobility vehicle ("Poimo") in the J-Startup pavilion at CES 2022, the world's biggest technology event.
CES 2022
The 2022 edition of CES, the world's biggest technology event, will take place in Las Vegas starting January 5, 2022. Given that Mercari R4D's goal is to ultimately make its findings publicly available, it originally had plans to physically present Poimo at the J-Startup pavilion hosted by JETRO (Japan External Trade Organization) in order to increase visibility overseas and create opportunities for corporate partnerships. However, due to the COVID-19 situation in the U.S., Poimo will instead be presented through video footage at the J-Startup booth on the 2nd floor of The Venetian.
Dates: Wednesday, January 5, 2022 – Saturday, January 8, 2022
Show venue: 2nd floor of The Venetian, CES
Mercari R4D's next step will be to improve Poimo's driving performance, ease of use, and durability, as well as to collaborate with partners and local governments in order to create proof of concept before bringing it to the public.
About Poimo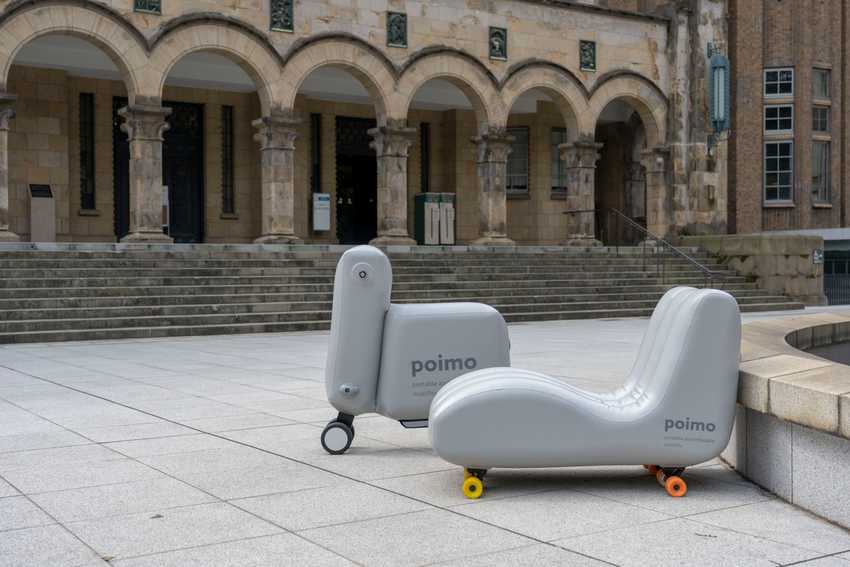 Poimo is a new type of electric mobility vehicle that uses an inflatable design. It started as a joint research project between Mercari R4D and the Japan Science and Technology Agency's (JST) ERATO Kawahara Universal Information Network Project, which is overseen by Professor Yoshihiro Kawahara from the University of Tokyo's Graduate School of Engineering. Today, the research is being conducted together with the University of Tokyo's Kakehi Laboratory, Osaka Prefecture University's Nakagawa Laboratory, and the National Institute of Informatics' Aoki Laboratory.
Poimo can be built in a variety of shapes such as scooters, couches, wheelchairs or carts. We hope that this combination of soft robotics, digital fabrication, interfaces, sensors, and other technologies will help us provide a short-distance mobility solution for everyone.
Poimo is a registered trademark of Mercari, Inc.
About Mercari R4D
mercari R4D was established in December 2017 as a research and development organization that aims to implement its findings practically, as part of the world at large. R4D aims to create future innovation for Mercari Group's services and businesses centered on the core concept of changing value exchange through technology. It conducts research and development technologies such as AI, blockchain, HCI (human-computer interaction), quantum information technology, and mobility.
Contact
Please contact about our research project from the contact page in R4D Web